4 original creations were presented and rewarded in this event: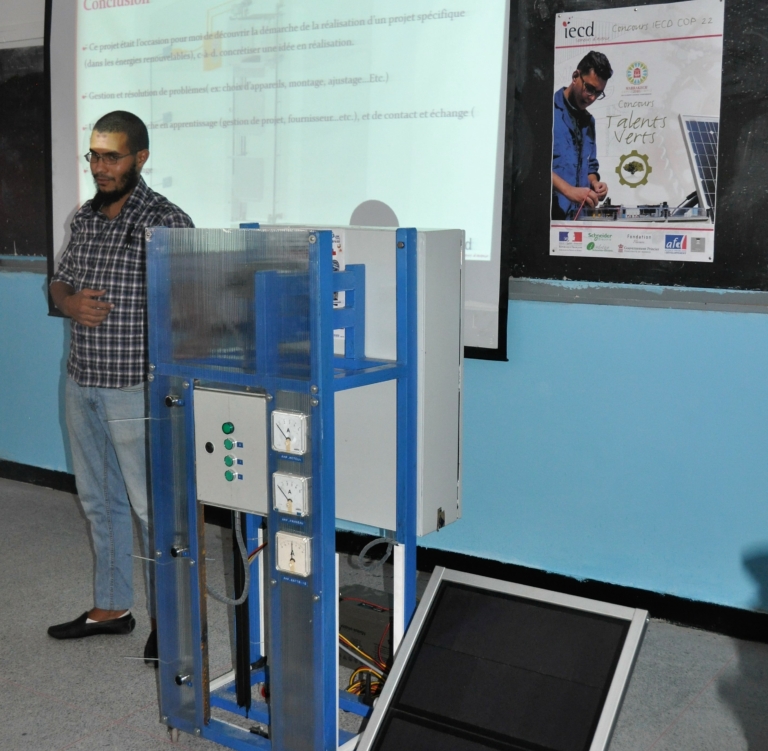 First AWARD: "Autonomous Elevator" by Adnane Boulanouar, former student of JUK SPEL and now qualified technician: the electric motor is powered by solar energy.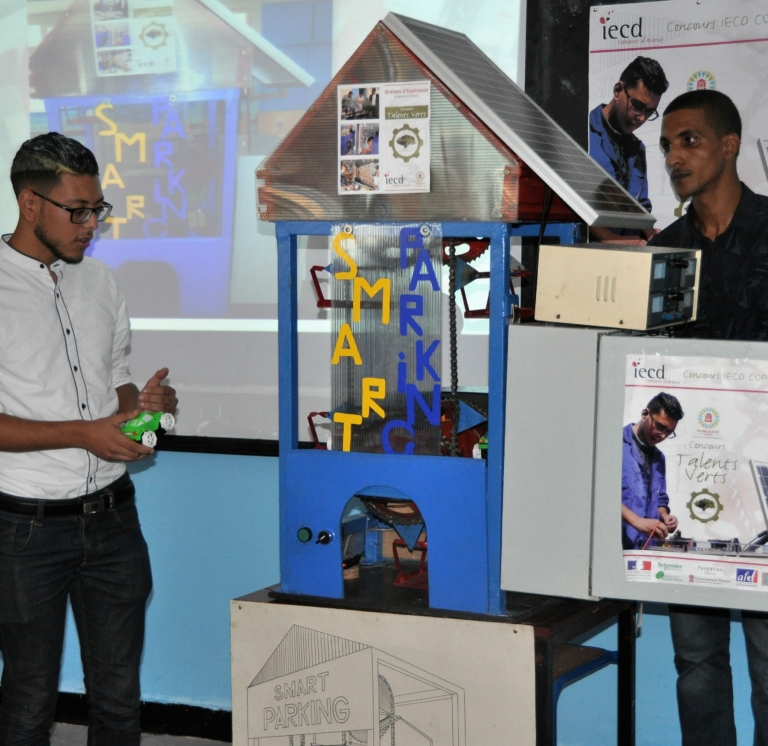 AWARD 2: "Smart Parking" by Mouad Bendahane and Abderrahmane Gribi, pupils of the JUK SPEL school: an optimized car park, consisting of a large wheel with parking space to set up vertical car parks, thus answering the saturation problem of the urban space, very crucial in the cities of Morocco.
FEEDBACK ON THE
"

GREEN TALENT

"

COMPETITION

Seeds of Hope Program in Morocco
The final of the first edition of the Talents Verts competition took place on 26 October 2016 at the premises of JUK SPEL in Kénitra. Based on a similar successful experience in Egypt in 2015, this project was initiated by the IECD in collaboration with the French Embassy, ​​Schneider-Electric, the DCI of Monaco and Nexans.
The participants to this contest, all students of the "Seeds of Hope" partner schools, have competed to create innovative, economical and ecological solutions to meet the major environmental challenges.
Two events were organized:
"My Green City" was axed on social initiatives with an environmental perspective: the candidates have to imagine ways of changing behavior in their social environment, whether to propose new solutions, m

obilize the inhabitants or awaken consciences.

"My Green Energy" spotlighted original inventions in the form of prototypes.

Already presented during the Climate Day organized by the French Institute and the French Embassy in Rabat on 1 October 2016, the prototypes were unveiled in their final version, before a public interested and sometimes even fascinated by the prospects offered

By these inventions.
A total of 6 projects were submitted to a jury composed of representatives of the main partners of the competition and of the Seeds of Hope program in Morocco. The jury, delighted by all the projects, subsequently presented the various prizes to the participants, ranging from a scientific discovery trip to Paris to sports shoes and mountain bikes. All participants also received a widely packed toolbox to begin their "turnkey" active life and had the opportunity to present their project at the COP22, from 7 to 18 November in Marrakech!
Thanks to its success, this competition initiated by the IECD in Morocco, on the model of a first experience in Egypt, will lead to new editions in the coming years. "
October 2016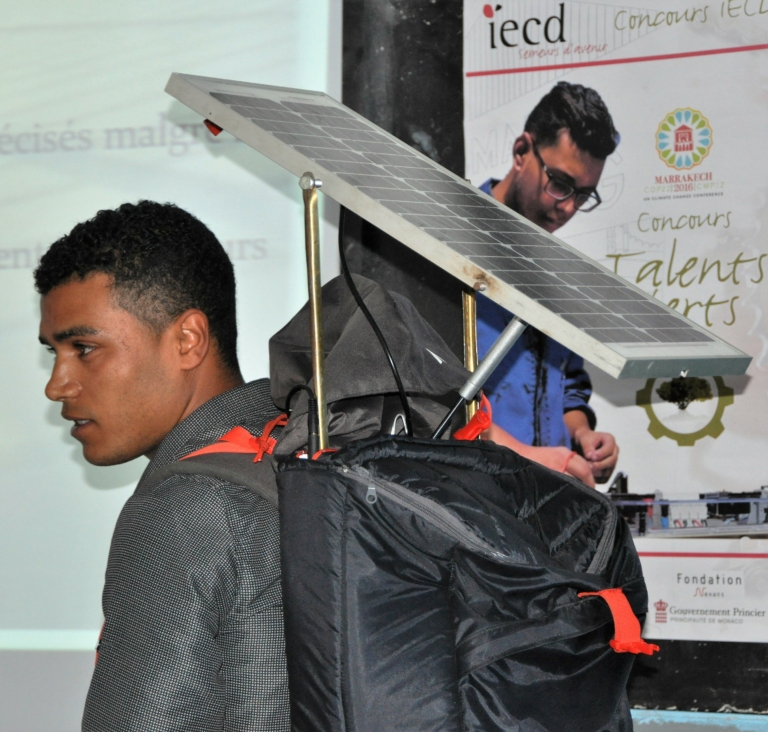 AWARD 3: "The Chamsi": solar backpack, by Ghiouane Benaissa, pupil of the CPT of Kenitra: it allows the user to recharge his electrical appliances continuously. In addition to its practical aspect, the purpose of this bag is to allow hikers and travelers to constantly maintain the possibility of being contactable, guaranteeing a good security.
AWARD 4 : The "tracking panel", by Mehdi Najim and Ibtissam Jannahi, students of the CPT of Kenitra: designed to rotate according to the position of the sun in order to maximize the energy captured.